National Aluminum Factory Company (NAFCO) has been operating for over Three decades to the utmost satisfaction of its clients in the field of aluminum fabrication from extruded and rolled materials supplied by globally known sophisticated suppliers such as Europeon Facade Products (EFP Systems), SCHUCO Systems, BALEXCO Bahrain and Alupco Saudi Arabia.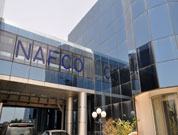 Head Office & Factory
NAFCO is located in 3rd Industrial Area of Riyadh, Saudi Arabia in a purpose built factory including the management office. At present NAFCO is capable of producing about 60,000 Sq.m glazed aluminum products in one shift of 8 hours a days. The Production range includes Sliding, Side, Bottom/Top hung windows, single and double swing doors, louvers, partitions, railings, curtain wall, structural curtain wall, horizontal structural curtain wall, etc.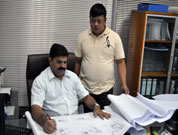 Design, Fabrication & Assembly
From concept to full working drawings including technical submissions and supportive date is available. Utilising state of the art equipment and sophisticated machines, the fabrication is done to the highest degree of accuracy and finish. Using crimping method or other mechenical connections, all units are assembled to international standards.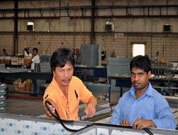 Quality Control & Transportation
Pre-delivery inspection of materials ensures strict quality control scheme being implemented to check flaws and errors in material and workmanship. NAFCO has its own fleet to transport the material to the customers throughout the Kingdom Provinces.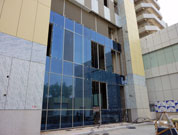 Installation
Trained Installers, controlled by Project Manager are working in planned and agreed sequence, having regard to individual project requirements, covering, securing to masonry, alignment and application of caulking/mastic sealants.